Working with multiple screens in a workspace can be very laborious and expensive, most times you have to wait to synchronize all applications in another desktop to much with your other for you to carry out effective work. The time it takes after an upgrade to ensure that every system in the workspace is undated can be very slow for work and might go ahead to greatly reduce productivity. The effect of not having all applications for work tools in one place, and having to install and upgrade all culminates to having a slow and ineffective work place. When employees can work from anywhere, where they can have access to their files for work from any place it quite makes it easier to be even more productive at work. desktop as a service goes a long way to make work space computing an easier one.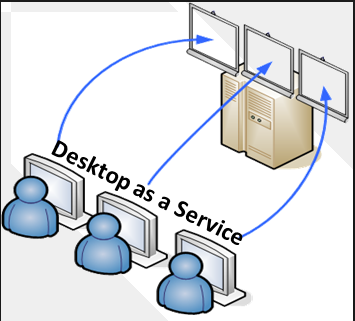 Since the wide spread of "Bring your own device" BYOD, people have continued to enjoy the flexibility of work and not have to switch into work mode, or use work desktop. The freedom to use your own device for work allows you to continue work in any place, whether in the car or at home. It also allows you to manage your own work device just the way you want not stifling you to one routine style. Desktop as a Service, manages all your applications from the cloud as a virtual desktop and makes it easy for you to access all app, once you sign in as a user. You can also have access to emails of your work anytime and anyplace.
All employee work desktops can be upgraded at the same time and Every Application and upgrade in same as in everybody's own device. Another great benefit of DAAS , is that it is even more secure, you can keep antivirus and malware attacks at bay, It makes your workspace management very easier to manage in terms of storage, synchrony and access.